"Then you are prepared to recognize our legitimate succession?"
— Mornay to Balliol.
Mornay

Significant Battle(s):

Historical information

Real name:
? Mornay
Born:
1249
Died:
1298
Actor:

Alun Armstrong
Mornay was a Scottish noble.
Biography
[
]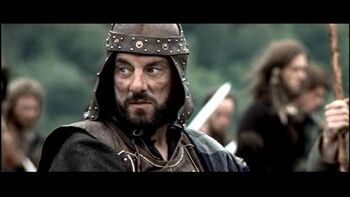 Mornay was a wealthy noble in Scotland who believed in Scottish independence but frequently changed minds to suit the situation, taking into minds the promises of land and title by the Longshanks, the King of England. In 1297, he aided William Wallace's rebellion and was one of the commanders at Stirling Bridge, and commanded the cavalry. Though he advised against dividing the Scottish forces, Wallace told him to lead his cavalry around the hills to make the English think that they were running away, take out their archers, and meet Wallace in the center of the battlefield. The scheme worked, and Mornay forced Lord Talmadge to try and save his hide. After the battle, the Balliol clan invited Wallace to continue the region's support of the Balliol clan, but Mornay believed that he was one of Longshanks' men and that the documents he wrote were all lies. Wallace left without solving the issue, claiming that they still quibble even after their great victory. He invaded England, and Mornay soon began to side with Edward I. He was promised double his lands and matching estates in England, and agreed to desert Wallace at the battle of Falkirk, leading to his defeat and near death.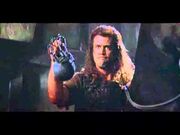 Later on, after escaping death at Falkirk, Wallace wanted revenge. He rode into Mornay's bedchambers and swung a ball-and-chain at his head, killing him.