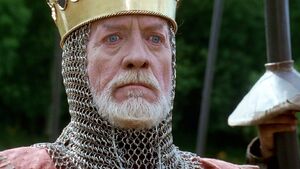 King Edward I "Longshanks" was the King of England in the movie Braveheart and in real life from 1272-1307. Portrayed as the main antagonist in the film, he's eventually brought about the ultimate demise of the story's main character and protagonist, William Wallace.
Historical Background
[
]
Edward Longshanks was born on June 17, 1239, as the first son of King Henry III and the grandson of King John. In 1264, Edward along with his father were captured in a civil war against the rebellious earl Simon de Montfort in the Second Barons' War. Luckily for Edward he escaped, enacted revenge on his captors and successfully turning several rebels back to the royal cause. As a result the rebellion was put to an end and Edward saved both his father and the Plantagenet dynasty. In his early 30s, Longshanks went on a small crusade, known as Lord Edward's Crusade or the Ninth Crusade. On his way home in 1272, he learned Henry, his father died, when he returned he was crowned king on August 19th. In his reign, he would fight against the Scottish, which the movie Braveheart, portrays.
King Edward "Longshanks" was played by Patrick McGoohan (1928 - 2009)